Named USAF MB-4 Flight Helmet F-102 F-101 F-100 Pilot Flying Jet Cold War P-4B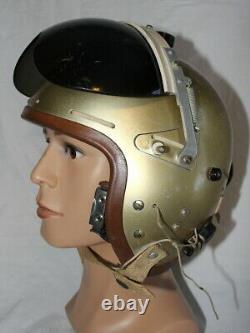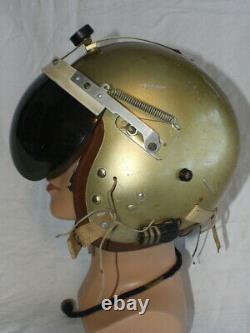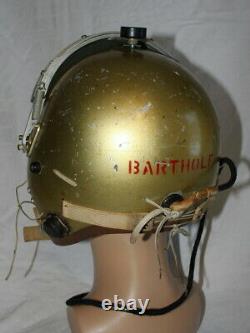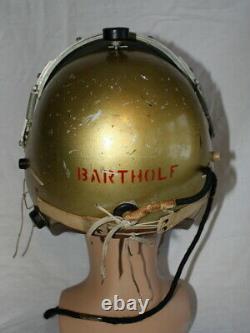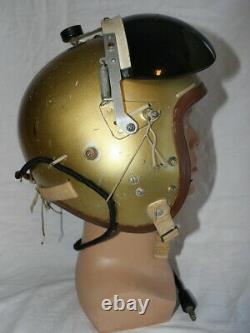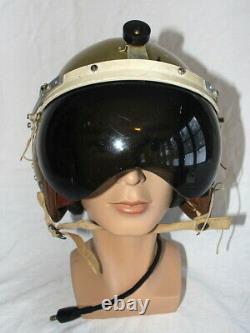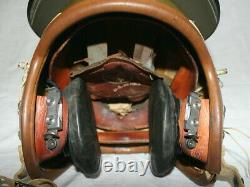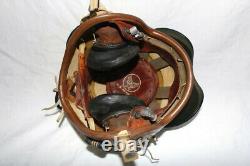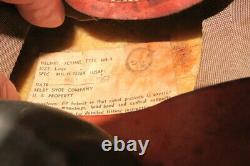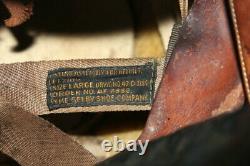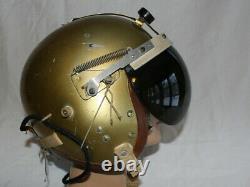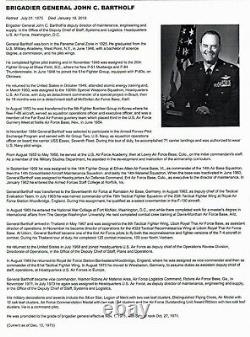 Though this is a MB-4 shell it does have P-4 style visor assembled. This is a complete unit, named for USAF Brigadier General John C. I bought two of his helmets and 100 mission camo HGU-2A/P F-4D & RF-4C helmet I will keep in my own collection. This MB-4 can continue for another collection. I found this info of MB-4 helmets(Best-Of-Flightgear.
Dk): The MB-4 helmet was produced around 1957 for use by Strategic Air Command (SAC). The MB-4 configuration (which was otherwise identical to the P-4, except that it lacked the rigid external visor) was apparently intended for use in non-high performance aircraft, such as slower, multi-crewed bombers, transports, and utility aircraft, in which the extra protection of a wind-blast visor was not needed and in which the protruding mechanism itself might pose needless range-of-motion encumbrances on a crew flight deck or within a flight station. Here, the confusion increases further, as the external visor assembly was frequently added to the MB-4 designated helmets arising from individual pilot preference, although the rigid wind-blast visor was not standard to the MB-4 specification. Thus, surviving specimens of both the MB-4 and the P-4 can both be found today with the visor assembly installed...
A situation which has created some consternation on the part of helmet collectors, flightgear archaeologists, and life support historians. However, despite this apparent incongruity, the MB-4 and P-4 helmets were given mutually distinct PNs and other identifying nomenclatural numbers, according to the TOs.
TO 14P3-4-508 dated 11 Jul 55 specifies that... Any P-1A/P-1B helmet updated with the newer H-75/AIC headset system (and lacking the visor) will be designated as Helmet, Flying, Type MB-4", whereas "...
Any P-3 updated to the (new communications) specification will be thereafter designated as Helmet, Flying Type P-4. Although it was contemporary to the P-4A helmet most were made to specification MIL-H-7328A which makes them a P-4 helmet without visor.
USAF Brigadier General John C. Bartholf had an unique flight caree including 71 carrier landings on board the carrier USS Essex 1954-55 and 125 combat missions, 100 over North Vietnam 1967-68. I guess this MB-4 was used by him with F-102, F-101 or F-100s late 50's or early 60's. Those oxygen mask receivers are making this helmet also an interesting example of MB-4 helmets. Most probably those receivers were fixed for MBU-5/P mask with straight bayonets.
Unfortunately I don't have more information only his short bio from internet. Thanks for looking and have a good week! The item "Named USAF MB-4 Flight Helmet F-102 F-101 F-100 Pilot Flying Jet Cold War P-4B" is in sale since Tuesday, January 12, 2021. This item is in the category "Collectables\Militaria\1946-1960". The seller is "saunamajor" and is located in Muuruvesi.
This item can be shipped worldwide.
Theme: Militaria
Time Period: 1946-1960
Type: Personal Gear

---